Weston's sand sculptures damaged by high winds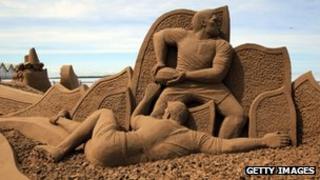 Ten sand sculptures next to the beach in Weston-super-Mare have been damaged by high winds.
The artworks are designed to withstand rain but gusts of up to 60mph (95km/h) on Friday left some damaged.
The head of one figure was lost along with the foot from another. Organisers have said repairs are due to start on Monday.
The annual Weston Sand Sculpture Festival opened on 1 June and is due to run until 9 September.
The festival, which is in its seventh year, attracts award-winning artists from all over the world.
This year's theme is Fun and Games.