Vivary Wedge 315 homes plan sparks protest by residents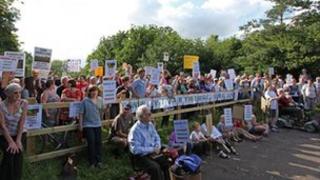 More than 200 people have held a protest against plans to build 315 homes on the outskirts of Taunton.
Summerfield Developments wants to build in Vivary Wedge although this land has not been earmarked for development in the council's blueprint for growth.
Protester Dave Berry said: "It's greenfield land - there are bits of Taunton where the developers keep hacking away at."
The developer has said over half of the 50-acre site will be public space.
'Traffic impact'
In 2010, Summerfield Homes was refused planning permission to build 600 homes in the same place.
The new application was lodged with Taunton Deane Borough Council in May and it will now be reviewed by planners.
A planning committee date has not yet been set.
Chris Winters, of Summerfield Homes, said: "We've approached planning officers with proposals that were revised from the original concept two years ago of over 600 homes.
"We have reduced the numbers and we have looked at the traffic impact which was by far the biggest objection we had from the public consultation and that has resulted in an application for half the number of homes."
Taunton Deane Borough Council has said developers can still apply for planning permission even if land is not included in the core strategy.