Government asked for more cancer money for Somerset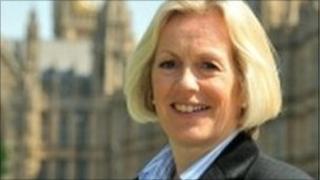 The government has been urged to release more money for cancer treatment in Somerset.
Tessa Munt, the Liberal Democrat MP for Wells, told the Commons local hospitals were being forced to rely on charities to fund radiotherapy treatment.
She said less than £500m each year was spent on the service nationally, compared with £1.5bn on cancer drugs.
The government said radiotherapy services across England were being expanded.
Ms Munt said: "The department of health accepts that radiotherapy is the cheapest and most effective way of treating cancer.
"Despite this the department will spend over £1.5bn on cancer drugs this year but less than a third of that on radiotherapy."
Standing in for David Cameron at Prime Minister's Questions, Foreign Secretary William Hague said decisions on treatments should be made by clinicians based on whatever was most appropriate for their patients.
"We are investing over £150m more over the next four years to expand radiotherapy capacity, and I know my honourable friend will welcome that."