High Court action over Woolley Valley poultry farm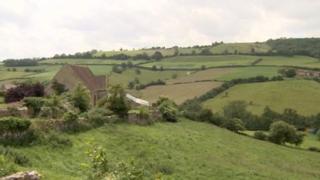 A group fighting the development of a rural beauty spot in part of Somerset is taking its campaign to the High Court.
Their campaign centres on a poultry farm that was built two years ago in the Woolley Valley, just outside Bath.
The company behind it and the council say that no planning permission is needed for poultry outhouses.
But campaigners from the Save Woolley Valley action group claim the council has failed to implement planning law.
The valley falls within an area of outstanding natural beauty.
Save Woolley Valley argues that if the farm is allowed to keep the buildings it will expand, setting a national precedent.
Bath and North East Somerset Council said: "Whilst it is acknowledged that some residents are frustrated by events on the site, the council... must act in accordance with the law and local and national policy and be fair to all sides.
"It is also important to bear in mind that the site is agricultural land and that planning permission is not required for agricultural activities."
The High Court hearing is due to take place on 3 July.