Speeding fines for drivers in Henlade spark 30mph limit review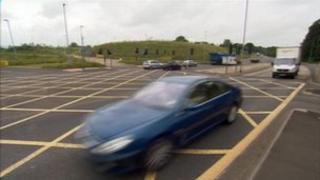 A one-mile stretch of road in Somerset where more than 5,000 drivers were caught speeding in a year could have its limit increased from 30 to 40mph.
A Freedom of Information request about the A358 in Henlade found 5,336 cases of speeding from April 2011-12.
Too few 30mph signs has been cited as one of the reasons by a local councillor.
A meeting is due to take place in July between the county council's highways team and the police to find a solution.
Of those caught, 2,542 drivers were prosecuted in magistrates' courts, which raised £152,250 in fines.
Other drivers caught speeding received fixed penalty notices.
'Seriously wrong'
The one-mile route is a short stretch of dual carriageway entering Henlade in the direction of Ilminster and Yeovil.
The only 30mph speed limit sign is under the M5 roundabout approaching Henlade, but there is no sign for those coming off the motorway at junction 25.
Conservative county councillor David Fothergill, who submitted the FoI request, said: "Speeding can never be acceptable, but for those of us who drive this regularly it is clear that since the park-and-ride was built something is seriously wrong.
"The problem is clearly not a lack of enforcement but apparently low awareness of the speed limit by drivers."
Fixed speed cameras in the Avon and Somerset Police force area were switched off in April 2011.
But mobile speed camera vans are still used along stretches of roads where the speed camera road sign is in place.
Magistrate Philippa Hawks, who has handed down fines in court, said: "They [drivers] say they didn't realise, there were no signs, no nothing, and immediately thought it was a de-regulated road."