John Reynolds to make second attempt on running record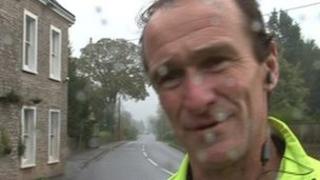 A Somerset runner says he will repeat his world record attempt for the number of miles run in a week.
In May John Reynolds, 50, of Radstock, believed he had beaten the previous record of 408 miles in seven days with 21 hours of running time in hand.
But heavy rain during the attempt got in to his GPS trackers and he was unable to provide the evidence needed by the Guinness Book of Records.
Mr Reynolds said he hoped to rerun the event next year.
He said: "I really think this is achievable... and to show once more what you can achieve if you truly believe in your goals.
'Massive run'
"[As for] the world record verification for my [last] run, I really don't think that there is enough evidence after the trackers broke down.
"I'm seriously looking at rerunning the event later next year and using Guinness World Records guidelines to get 100% verification.
"All being well, push the mileage even further than I did this year, from learning with the experience gained from May's massive run."
His route took him from Radstock through Keynsham, Chew Valley, Bristol, Wells, Shepton Mallet and Bath and he repeated the circuit continuously, taking only short breaks, for seven days.
He was motivated to start fundraising after suffering a severe illness eight years ago and took on the challenge in a bid to raise £50,000 for the Children's Hospice South West.
Previously he had taken on a number of challenges in support of the hospice, including 22 half marathons, four full marathons, 24 ultra marathons of more than 54 miles and six extreme marathons of more than 100 miles.
Mr Reynolds also carried the Olympic torch through Frome on 22 May in recognition of his fundraising work.