Olympics star Mary Rand visits a school in Wells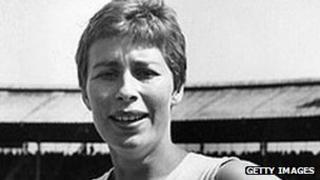 Olympics star Mary Rand is to visit her former school in Wells as part of celebrations to mark her achievements.
Rand became the first British female athlete to win a track and field Olympics gold medal, in the long jump at the Tokyo Games of 1964.
She grew up in Wells and will receive the freedom of the city in a special ceremony on Sunday.
She will meet pupils at Stoberry Park Junior School to show her medals and will judge a long jump competition.
Teacher James Ramsey said: "She's going to meet as many pupils as she can, and local businesses and our circle of friends have built us a proper sand long jump for the occasion.
"Some of our older children are going to jump in front of her and she's going to judge it.
"They're all very excited to meet a proper Olympian."
Another Olympics champion from Wells, Danny Nightingale, will also receive the freedom of the city on Sunday.
Mr Nightingale won a team gold in the modern pentathlon at the 1976 games in Montreal.
The freedom of the city titles will be given to both Olympians in a ceremony at Wells Town Hall on Sunday.