Temporary jetty at Hinkley Point C in Somerset approved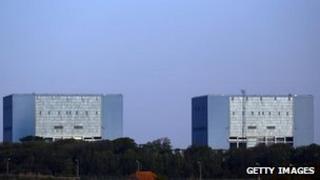 Permission has been given to build a temporary sea jetty at Hinkley Point C in west Somerset, the site of a proposed new nuclear power station.
The company behind the plans, EDF Energy, said it welcomed the decision.
The 500-metre long structure would be used to bring in materials during the construction of the proposed new nuclear power station, if approved.
The approval of the jetty does not have any bearing on whether the new power station itself will get the go ahead.
EDF Energy said it would take down the jetty and restore the area to its original condition if permission for the new reactors was not granted.
'Minimise traffic'
A company statement said the the temporary jetty will allow "significant volumes of construction materials to be delivered by sea" in a bid to minimise traffic on local roads.
"One sea vessel alone will avoid up to 250 heavy goods vehicles using the local road network," the statement continued.
Richard Mayson, from EDF Energy Nuclear New Build, said he was pleased the applications, which were submitted in December 2010, had been given the go ahead.
"It will make a considerable contribution towards mitigating the impact of the station's construction on the local community.
"[The] decisions mark another important step in the right direction."
Work on the jetty will start as soon as possible and will take about 15 months to build.
Approval was granted by the Marine Management Organisation and the secretary of state for energy and climate change.