Royal Mail's Bridgwater staff strike for second day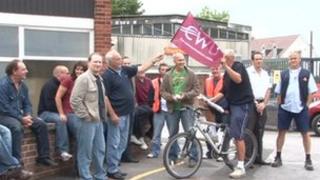 Postal workers at a Royal Mail delivery office in Bridgwater, Somerset,, are holding a second day of strike action.
More than 100 staff are protesting against a colleague's suspension and over a dispute about time off for medical appointments.
The Communication Workers Union (CWU) said discussions with Royal Mail broke down on Friday and members would vote on Monday whether to continue striking.
Royal Mail said it had contingencies in place to minimise delivery disruption.