No judicial review into Tropicana demolition plans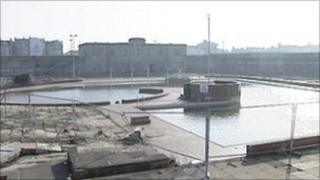 The High Court has refused an application for a judicial review into plans to demolish the Tropicana building in Weston-super-Mare.
North Somerset Council wants to bulldoze the sea front pool following a number of attempts to revamp the site.
Trop (WsM) Ltd, which asked for the review, wants to redevelop the 1930s building.
But Judge Stephen Morris threw out the application saying the grounds for the challenge were "unarguable".
Afterwards, leader of North Somerset Council Nigel Ashton said: "This is welcome news."
'Correct procedure'
Businessman Derek Mead, who is behind Trop (WsM) Ltd, said he would consult his legal team about the decision.
He said he did not know why his lawyers had not been notified of the court hearing.
"We'll have to see Mr Ashton and see if we can buy the derelict site off him after they spend £750,000 knocking it down and see if we can take it forward."
Mr Ashton said: "We have been at great pains to follow correct procedure and I am glad we are not wasting any more public money on a case which clearly has no merit.
"Instead, our full attention can be focused on getting permission from secretary of state, Mr Eric Pickles, to demolish the old buildings and further improve Weston's seafront and seek to attract even more inward investment to the area."