Group wedding at Bath Guildhall 'first of its kind'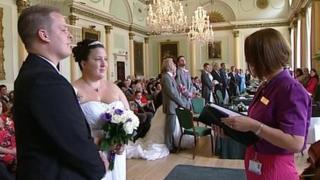 A group wedding thought to be the first ever in England and Wales has taken place at Bath's Guildhall.
Six couples tied the knot at the ceremony in the banqueting room at the venue in the High Street.
Bath and North East Somerset Council planned the event to coincide with the opening ceremony of the London 2012 Olympics .
The mass event also coincides with the 175th anniversary of the start of civil marriages in England and Wales.
All of the couples had to register in advance and pay £200 for the ceremony, which also included a reception for 30 people per couple.
One bride and groom, Sarah Shelton and Gareth Watson from Leicester, said they were delighted to take part in "such a unique ceremony".
"We fell in love with Bath when we visited in August 2011 and got engaged in the rooftop pool at the Thermae Bath Spa," they said.
'Fantastic opportunity'
"We had been planning to get married this year but wanted something different from the ordinary.
"We stumbled across this ceremony and couldn't believe it - what a fantastic opportunity to be part of something so special in such a beautiful city."
Another couple, Emily Morgan and Steve Cottle from Bath, spotted the sign advertising for engaged couples while registering their newborn son at the Guildhall.
"We thought it would be nice to be part of the Olympics," said Emily.
"[It is] something that our children could be part of as well and that they could remember and tell their children about in the future."
Thirteen registrars from across Bath and North East Somerset were involved. Mayor of Bath Andrew Furse gave two readings.
Alison Manning, Bath and North East Somerset Council's superintendent registrar, said they had been planning the event for more than 12 months.