Baby bats rescued from hot loft in Taunton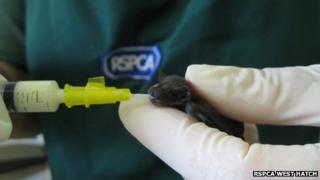 A group of baby bats is recovering at a Somerset wildlife centre having fled from a hot loft in a house in Taunton.
The three-week old pipistrelle bats were born in the loft but crawled out to the airing cupboard and hung onto walls and curtains to escape the heat.
Despite the rescue, one of them died at the RSPCA centre in West Hatch.
RSPCA officer Alison Sparkes said: "The poor little bats probably thought the roof was cool enough, then got a shock when it got hot all of a sudden."
"Luckily for them, the homeowners left the loft hatch open so they could make a quick escape when they found it was too much for them," added Ms Sparkes.
The baby bats are now being hand-weaned and fed a milk substitute by syringe up to every 15 minutes per bat.
RSPCA centre manager Peter Venn said: "At the moment all the babies are feeding well and getting stronger - but when they are this little, hand-weaning is a difficult and time-consuming process."
The centre has reported an increase in the number of bats being rescued from homes, which it believes has been caused by the changeable weather.