Railway book shop at Minehead shop raises £150,000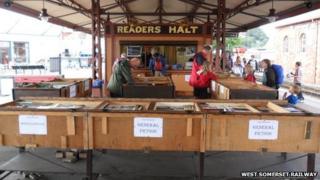 A second-hand book store opened in 1998 to help raise cash for Minehead station on the West Somerset Railway has brought in £150,000.
When volunteers set up stall on a barrow on the platform they hoped it would pay for tins of paint and brushes to help spruce up Minehead station.
But as donations of books, magazines and pictures continued, the Readers Halt store was set up at the station.
The money raised has been used to help expand the group's facilities.
Chairman of the friends Martyn Snell said donations had exceeded the group's "wildest dreams" and now instead of worrying about people donating stock, the group was having to find additional storage space.
'Need donations'
"When we started they said: 'We'd be happy if we take £10 a day' but now they're disappointed if its not a few hundred.
"We don't buy anything but people come in at the start of their holidays and spend 10p or 50p on a book and they bring it back afterwards."
"And we've got a dedicated group of volunteers who keep the shop open everyday so there's no staffing costs."
Mr Snell, a retired former chief inspector with Avon and Somerset Police, said the money raised allowed them to make repairs or improvements the group could not otherwise afford.
"We like raising the money and the railway likes spending it.
"We're just finishing off the fencing around the car park which has cost some £10,000 and our next project is to refurbish the station toilets and that's likely to cost up to £50,000.
"We still need donations of books magazines, pictures or puzzles but we struggle to get children's books - they just fly off the shelf when they come in," he added.
The West Somerset Railway, which operates between Bishop's Lydeard and Minehead, was closed in 1971 but re-opened five years later.
It operates a fleet of diesel and steam locomotives and is popular with tourists to Somerset.