EDF uses £3m system to manage Hinkley Point traffic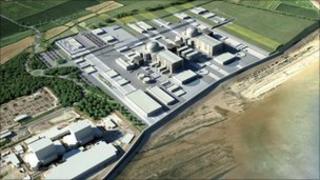 EDF Energy is investing £3m to help cut congestion caused by deliveries to Hinkley Point, where the new nuclear station has been planned.
The plans involve using number plate recognition cameras between the M5 and Hinkley Point so lorries only use designated routes.
Construction director Nigel Cann said the system would "reduce the impact of HGVs on local roads".
West Somerset and Somerset county councils have welcomed the plans.
Sea travel
The web-based traffic management system will also involve putting in other traffic controls, such a delivery slot system for hauliers.
EDF said this will also help ensure HGV movements can only travel between permitted hours.
Mr Cann said: "We recognise the concerns many people have about Hinkley Point C traffic during construction.
"Our whole transport strategy is therefore based on reducing the impact as much as possible by sea, investing in road improvements and carrying workers to and from site by bus."
If built the new nuclear power station could be operational by 2020.
About 5,000 construction workers are expected to move to Somerset during the nuclear build.
EDF has also said it will build a bypass around Cannington and pay for road improvements around Bridgwater to help alleviate traffic congestion.