Bath Abbey recruits fundraiser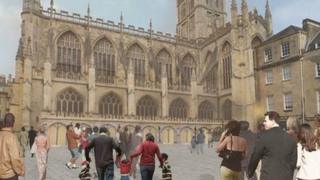 Bath Abbey has recruited a professional fundraiser to help it find the £18m it needs to redevelop the historic building.
Laura Brown is moving from the American Museum in the city to take up the post of the abbey's appeals director.
She said a large part of the fundraising would be making a bid to the Heritage Lottery Fund.
The abbey has already submitted plans to tap into the city's hot springs for a new eco-friendly heating system.
The application, part of the Footprint Project, also includes plans to open up hundreds of metres of additional floor space at vault-level and upgrade buildings nearby.
'Stretched thin'
The revamp will create a new choir school, meeting and learning spaces and a new entrance to the building.
Ms Brown said: "The abbey staff isn't that big, they were already stretched thin.
"So it's great to be able to come and join them at this point and be able to help them bring this thing to life."
The abbey, which dates back to 1499 and was completed in 1611, has more than 350,000 visitors each year.
The current building replaced a ruined medieval cathedral which the Normans began building in about 1090.