Weston-super-Mare street parking charges set for October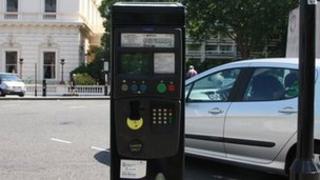 New parking charges for many streets in the centre of Weston-super-Mare will be introduced this October following a last minute challenge.
North Somerset Council threw out an attempt by the Lib Dems to "call in" plans for residents' parking permits - which would have forced further debate.
The Conservative-run council said the scheme will reduce congestion and will be kept under close review.
Liberal Democrat group leader Mike Bell says residents will be worse off.
"In principle everyone supports the idea for a scheme to try to improve the parking management in Weston and get more shoppers easy access to our town centre," Mr Bell said.
"But it doesn't mean it's got to be at the expense of residents who are going to be forced into a substantially worse situation and high bills with parking charges to just to park outside their own house," he added.
Last month North Somerset Council backed plans to start charging from 1 October and introduce resident parking permits.
Council officials insist the charges are needed to increase the turnover of parking spaces rather than to make money.
But the Liberal Democrats say the permits are virtually "worthless", only offering two one-hour slots per day.
The residents' permits, costing between £31 and £62 a year, allow parking from 0900-1000 and 1700-1800.