Baroness tour bus plunge: Coach retrieved from Bath crash site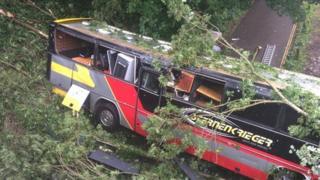 An American rock band's tour bus which fell 30ft from a viaduct near Bath has been retrieved from the crash site.
Two people suffered multiple fractures and seven others minor injuries when the coach smashed through barriers at Brassknocker Hill, in Monkton Combe.
It was carrying members of Baroness, who were travelling from Bristol to Southampton.
The bus was moved overnight after the accident happened at about 11:30 BST on Wednesday.
Insp Steve Mildren, from Avon and Somerset Police, said that at the time of the crash "it was raining really very hard".
"Now whether that was a contributing factor, we don't know at this early stage of the investigation, but obviously that will form part of the investigation," he said.
One of the pair who suffered multiple fractures was taken to Frenchay Hospital in Bristol and the other to the Royal United Hospital in Bath.
The seven with more minor injuries were taken to the Royal United Hospital (RUH).
Baroness was formed in 2003 in Savannah, Georgia, and has toured throughout Europe and the US.
They played at The Fleece in Bristol on Tuesday evening and had been due to appear in Southampton on Wednesday.
They have also played at a variety of festivals, including Coachella and Bonnaroo in the United States.
All remaining dates of Baroness's European tour have been cancelled.
More than 1,300 messages of support have been posted on the band's Facebook page.