Cotswold Way marker stone to be installed in Bath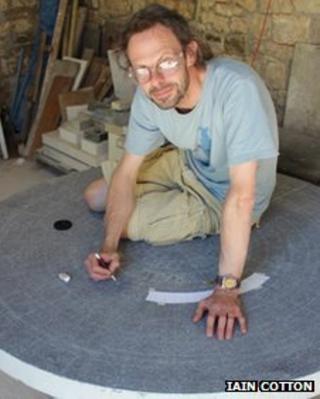 A stone to mark the beginning of the Cotswold Way is to be installed next to Bath Abbey.
The national trail, which runs for 102 miles (164 km) from Bath to Chipping Campden in Gloucestershire, was officially launched in 2007.
A circular disc of blue limestone, hand carved with place names from along the route, will be set into the pavement.
Local artist Iain Cotton was chosen to create the public work of art. It will be officially unveiled on 25 October.
Project manager Diana Hatton said: "The abbey itself is actually the start of the route and, impressive a marker though that is, thousands of tourists were seen wandering around wondering where the official start was.
"This will be somewhere for them to have their photograph taken."
The 1.4m (4.5ft) diameter stone, which will feature the Cotswold Way acorn symbol at its centre, is to be set into the pavement in the abbey churchyard near the Roman baths.
A partnership of Bath and North East Somerset (Banes) Council, Bath Abbey and the Cotswold Way National Trail is behind the idea.
The Cotswold Way attracts about 150,000 walkers every year.