Air and sea search for missing four-year-old boy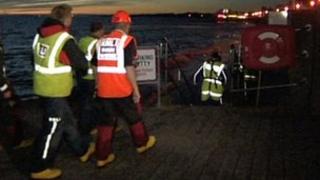 Coastguards are carrying out an extensive air and sea search after a four-year-old boy went missing at Burnham-on-Sea, Somerset.
The operation - involving a helicopter and two lifeboats - is continuing overnight as the tide has gone out, making the search easier.
Emergency services were called after the boy's parents were spotted trying to rescue him on Sunday evening.
The couple required medical treatment for water ingestion.
The Maritime and Coastguard Agency said: "A member of the public dialled 999 to inform Swansea Coastguard they had seen two adults go in the water to attempt to rescue a small child and that they needed medical assistance.
"Swansea Coastguard sent the Burnham-on-Sea Coastguard rescue team to the scene, along with the two Burnham-on-Sea RNLI lifeboats."