Burnham lost boy sea search called off by coastguards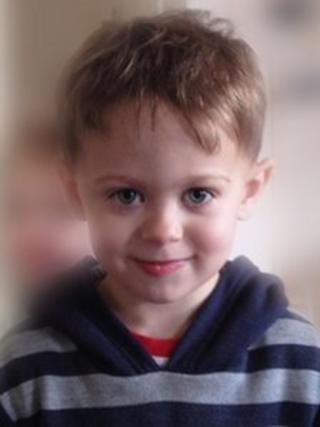 Coastguards have called off the search for a missing four-year-old boy who fell into the water at Burnham-on-Sea.
Rescue agencies had been searching for Dylan Cecil since being alerted on Sunday evening.
After ending the search at 16:30 BST, a coastguard spokesman said they had "covered every possible area that we can think of".
The boy's parents, from Kettering in Northamptonshire, were seen going into the sea in an attempt to rescue him.
Floral tributes have been left at the scene.
Dylan's grandparents, David and Jackie McCollum, said: "We're all just devastated.
"He loved coming up to see us, he loved the seaside. He was a bubbly, bubbly, lovely kid.
'Horrendous' tide
"We couldn't have wished for a grandson any better."
Teams from Clevedon, Weston, Watchet and Portishead worked for most of the night, with a short break in the early hours, before resuming at 05:30.
Police underwater search teams had also been helping in the operation, which has involved about 50 people.
Supt Keith McCoubrey, from Avon and Somerset police, said: "As you can all imagine this has been an extremely difficult time for the family who tried in vain to save him and were pulled from the water and treated by ambulance [staff]."
He said the family had been "left traumatised by the whole incident".
The call was made by someone who saw the boy's parents jumping into the sea on the south side of the slipway, which is about 2m deep.
"At some point Dylan wanted to go and see the sea, and get a bit closer to it. They went out on the jetty... and unfortunately Dylan slipped off the edge and went under the water," added Mr McCoubrey.
"At this time of the year the currents are quite fast flowing and Dylan didn't resurface."
The boy's parents were treated for water ingestion after being pulled to safety.
Witness Claire Holbrook, from Yate, said: "We could see the parents in the water and could see that they were really struggling to stay within the confines of the beach bit, the tide was horrendous.
"Somebody grabbed two of the life rafts and meanwhile people were grabbing their phones dialling 999.
"I ran across the beach to help pull him [the boy's father] out - the life raft brought him out to the edge of the water, but it wasn't far enough with the way the tide was coming in.
"If he had stayed there he would have ended up being dragged back out, so we dragged him out the water."
The family are believed to have been visiting relatives and friends in the area.
Coastguards said the spring tide currents in Burnham can be "hazardous".