Dylan Cecil: Sonar team fails to find body off Burnham coast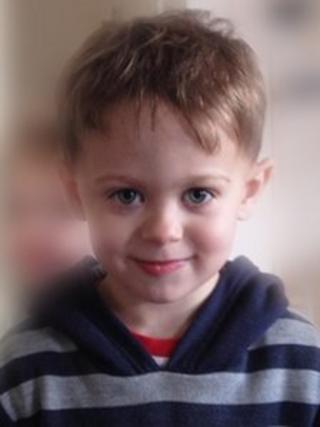 A specialist rescue team using sonar equipment and an underwater robot has failed to find the body of Dylan Cecil.
The four-year-old boy has been missing since he fell from the jetty at Burnham-on-Sea on Sunday evening, prompting a large search operation.
UK rescue organisation SARbot has spent a day scouring the water but was unable to find anything significant.
The charity's attempt comes after coastguards called off their search on Monday afternoon.
Duncan Winsbury, chief executive of SARbot, said: "We've just completed the search and have searched the whole bay and we've not found anything.
'No false hope'
"We believe that the currents may have taken him right out to sea now, he's certainly not in the bay.
"The police, the coastguard and the RNLI think that we have searched much more than they could have expected to have been searched and more thoroughly.
"We don't give people false hope, but we like to give people hope where we can.
"Unfortunately in this case, it's the old saying 'We can't find what is not there'."
Dylan, from Kettering, Northamptonshire, had been staying in Burnham with his grandparents.
He fell into the sea when he and his parents were walking near the shore.
His mother and father jumped in to rescue him and had to be pulled to safety.
A huge search involving the coastguard, police and helicopters was mounted to rescue Dylan but the operation was called off on Monday.
However, volunteers continued to scour the area on Tuesday.