Sacked Archbishop Cranmer school governors to be replaced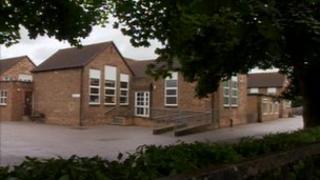 The sacked board of governors at a failing primary school in Somerset is to be replaced with an interim board.
The entire governing body at Archbishop Cranmer C of E Primary School in Taunton was dismissed after the school was rated inadequate by Ofsted.
The secretary of state has now approved Somerset County Council's application to replace the governors.
The council said an education leader from another Somerset school had been appointed "to strengthen the teaching".
The critical inspection raised issues from the school's leadership to pupils' behaviour.
The report, published in May, said the governing body did not demonstrate the skills necessary to drive improvement.
'Occasional action'
The governors were replaced with temporary managers appointed by the local authority.
Education Secretary Michael Gove has said he wants every primary school in special measures to become an academy.
Former governor Simon Coles said: "We had this choice which was either we ask Michael Gove to make us into an academy and tell everybody it was our idea, or we would be sacked, and they would do it anyway, so it was not much of a choice."
The council said the authority had a duty to act in the best interests of the children.
Tony McMahon, council support member for children and families, said: "We only take action like this occasionally and in this instance there were a number of factors that influenced our decision.
"Ofsted said in its inspection report that the governing body did not have the skills necessary to drive improvement.
"There is good evidence this year in Somerset that our approach has led to more rapid improvements in other schools that were causing concern."