Baroness bus crash: Band members leave hospital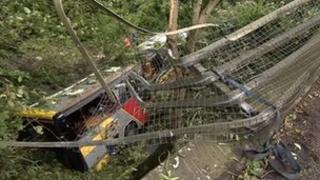 All four members of a US rock band which was involved in a serious bus crash near Bath have now left hospital.
A statement from Baroness said two more of its members had returned to the US after being discharged from hospital.
The band's tour bus was on its way from Bristol to Southampton on 15 August when it fell 30ft from a viaduct on Brassknocker Hill in heavy rain.
The band has cancelled all of its remaining tour dates this year and thanked fans for their support.
According to the band's website, band members Allen Blickle and Matt Maggioni, who suffered fractured vertebrae, have now arrived back in the US.
They follow vocalist Pete Adams, who returned to the US after receiving treatment at Bath's Royal United Hospital shortly after the crash.
John Baizley, who had a broken arm and leg, has also been released from hospital.
Nine people, including the four musicians, were on board the bus when the crash happened.
A previous statement on the band's website said the bus driver remained in a critical condition.
A spokesman for the Royal United Hospital declined to comment on the bus driver's condition.
Avon and Somerset Police are continuing to investigate the cause of the crash.