Bath welcomes Olympians and Paralympians in city parade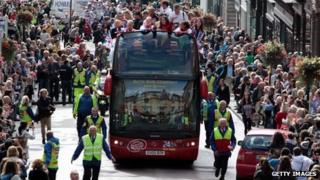 Crowds have lined the streets of Bath to cheer local Olympians and Paralympians in a homecoming parade.
Sporting heroes such as Ben Rushgrove, Liz Johnson and Michael Jamieson are travelling on an open-top bus through the city centre.
A total of 21 athletes are taking part in the parade, as well as those who have supported them in their careers.
The parade started at Bath University at 11:00 BST and finished with a civic reception at the Assembly Rooms.
'Great way'
Olympic silver medallist Michael Jamieson, who trains at Team Bath, said: "We were at the parade in London the other day and that was pretty special.
"It's just fantastic to see so many people who are so enthusiastic about sport and everyone's really embraced the Olympic and Paralympic Games.
"It's been such a great spectacle. I think we've helped create so much enthusiasm and if we can continue that into the Commonwealth games in two years' time we would be in a great place."
Swimmer Kate Grey, who competed at Beijing and cheered the athletes at Great Pulteney Street, said: "There are a couple of school teams here and they're loving it.
"The athletes did look a little bit tired, which is what can be expected after what they've been through in the past month or so, but I think it is a great way to end it all and to see the local crowds who have helped them through all the training and given them the support."
On Monday, a parade was held in London to celebrate the achievements of Team GB and Paralympics GB where thousands of people turned out to cheer them on.