Gull-proof rubbish bag scheme to be trialled in Bath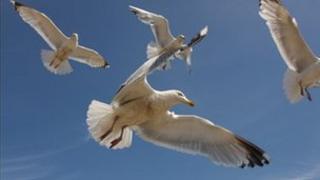 The local authority in Bath is to trial a reinforced rubbish sack scheme in order to reduce mess caused by birds and animals breaking into them.
A two-month trial by Bath and North East Somerset Council will gauge how successful the bags are at stopping scavengers such as gulls and foxes.
If the scheme works well, the reusable sacks could be introduced permanently.
Councillor David Dixon said the scheme was the first step in tackling the cause of much of the litter on streets.
The council will be contacting residents in the city centre before collections are due to ask them to participate in the trial by giving them a reinforced sack for free, together with information on how to use it.
Residents will be asked to tie up the black plastic sacks or carrier bags they use for their rubbish and place these in the new reusable bag and then put this out on their usual collection day.
Twenty-three city centre streets will be covered by the trial, including New King Street, Rivers Street, Royal Crescent and Bennett Street.
The trial is due to start on Thursday 20 September.