Wiltshire forge reopened by descendant of last village smithy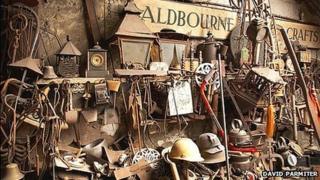 A Wiltshire forge, closed for over 30 years, has been re-opened by a great-grandson of the village blacksmith.
Marc Hart, a former accountant, grew up next door to the Aldbourne village smithy where both his great-grandfather and great-uncle worked.
But in 1982, following the sudden death of his great-uncle, the furnace was put out and the forge doors closed.
Now, following redundancy, Mr Hart has re-opened the forge to become the third person in his family to work as a blacksmith in Aldbourne.
The Old Forge on The Square was left completely undisturbed following the death of Mr Hart's great-uncle Alan Liddiard.
"It was all there - everything was there," said Mr Hart.
"All the coals were still in the furnace and when we went to light it - we just dug out the fire, lit some paper and it went straight away."
'Black nappies'
Brought up by his grandparents, in the cottage attached to the forge, Mr Hart said he was told his nappies were "always black" from being in the forge.
"My great-uncle Liddiard always said I'd be the next blacksmith of Aldbourne," said Mr Hart.
"But my nan thought I should get my education first."
It wasn't until he was offered redundancy from his accountancy position at a building society in Swindon, that Mr Hart was able to realise his dream.
"I think deep down my grandparents always wanted it to be a blacksmiths again," said Mr Hart.
"That's why they left it all so completely undisturbed and left it to me in their will."
When Mr Hart took over the forge, last year, it was filled with piles of metal, tools and cans, weather vanes, wheels, horseshoes, lanterns, shovels, forks and fire-irons.
It took more than a year to clear out with many items being used as examples to copy, inspiration for new designs or simply re-used.
'Shoed last oxen'
"You couldn't actually see a square foot of floor when we first came in here and started clearing out," said Mr Hart.
"But there's a real wealth of artefacts and there's one wall where every time you look at it you see something different."
Using 100-year-old hammers, last wielded by his great-grandfather and great-uncle, on the forge's original anvil Mr Hart is now working on a series of commissions.
"In the 1940s my great-grandad was shoeing up to nine horses a day and he shoed the last oxen in the village in 1917," said Mr Hart.
"I'm focussing on ornamental wrought iron work but I'm hoping to get a farrier in, a few days a week, and hopefully I can learn [farriery] from them."