Bath council sets up two more 'no cold calling zones'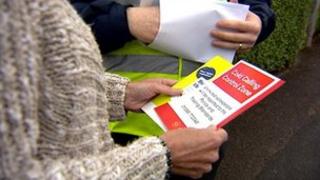 Warning signs and stickers have been put up in two more areas of Bath and North East Somerset in a bid to tackle rogue traders.
The so-called 'no cold-calling zones' in Hantone Hill, Bathampton and Old Vicarage Green, Keynsham are the first two in private residential streets.
The council said it was in "response to residents' concerns".
It brings the number of such schemes within the council's area to 12.
"The zones have been shown to have a significant effect in combating the fear of crime and in reducing rogue trading incidents and distraction burglaries," said a council spokesman.
They are they first to be set up where there is no sheltered housing and are run by Bath and North East Somerset Council and Avon and Somerset Police.
In the UK, there is no law to prevent cold calling.
It is however an offence for a trader to harass a resident, or to remain at the doorstep after they have been asked to leave.
All traders must comply with the Cancellation of Contracts Made in a Consumer's Home or Place of Work etc Regulations 2008 or face prosecution by Trading Standards if reported.