Drivers' views sought on new speed changes in Somerset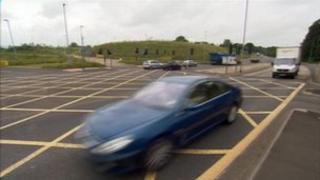 Drivers in Somerset are being asked what they think of proposed new speed restrictions between Taunton and Henlade.
The public consultation highlights four changes by Somerset County Council - on Priory Avenue, Toneway, M5 junction 25 and the A358.
The council has already discussed the plans with Avon and Somerset Police and several parish councils.
Conservative councillor Harvey Siggs said they were a "very good solution".
"We are not trying to penalise motorists, but we want to make sure the roads are safe," the cabinet member for highways added.
'Shunt' accidents
It is proposed to increase the limit from 30mph to 40mph on the motorway junction roundabout and then begin a 30mph zone a short distance along the A358, before the Taunton Gateway park and ride site.
Other changes include lowering the speed limit from 40mph to 30mph on Priory Avenue Taunton, and from 50mph to 40mph on Toneway and the A358 at Hankridge.
The council said it hoped the changes on the dual carriageways would reduce the number of "shunt-type accidents" at the Creech Castle traffic lights.
More information can be found online and "should be in place before the end of March".
The closing date for any written objections is 5 October.