Bayeux Tapestry engraved onto crystal dish in Somerset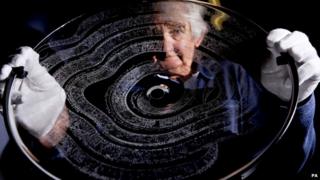 An artist from Somerset has engraved the 70m (230ft) Bayeux Tapestry image on to a shallow crystal bowl.
It took Frank Grenier, from North Cadbury, six months to engrave the 58 panels of the tapestry and an English description of each major event.
The crystal dish is to be used in an Autumn exhibition at Glastonbury Abbey.
Mr Grenier said: "Through this variety of engraved glass pieces I hope to show some of the magic involved in the art form."
He has been engraving for 20 years and studied under Simon Whistler, son of the famous glass engraver Lawrence Whistler.
The original Bayeux Tapestry is said to be the most important image of the 11th century.
It depicts the events leading up to the Norman conquest of England by William the Conqueror against his opponent Harold, Earl of Wessex, and culminates in the Battle of Hastings.
The dish will be centrepiece of the Reflections On Glass display at Glastonbury Abbey which opens on 5 October.