Call for tweeters at Clevedon Town Council meetings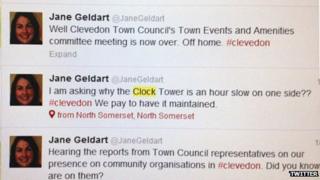 Members of the public are being urged by campaigners to attend a meeting of Clevedon Town Council in order to tweet the proceedings as they happen.
It follows a ban on councillors tweeting during meetings following fears "incomplete information" could be "misinterpreted" or "misunderstood".
Councillor Jane Geldart had used Twitter during meetings to try to get more people involved in politics.
No one from Clevedon Town Council wanted to comment on the matter.
Ms Geldart said she would abide by the council's decision - made in August - despite being disappointed by the result.
She said: "Recently they've [the council] been saying its OK for members of the public to to tweet from these meetings and I'm getting very confused here.
"People are so supportive and want to hear more about the council are doing and make Clevedon a better place."
Bristol Democracy Project said a new law which came into force last month was designed to make it easier for social media reporting of council meetings.
The organisation, which aims to get more people involved in local decision-making, is encouraging people to go along to Clevedon Town Council meetings - starting on 3 October - and "tweet to the world what happens at them".
"The more people that go and tweet, the more interesting this will be," the spokesman added.