Design call for Bath Crematorium cross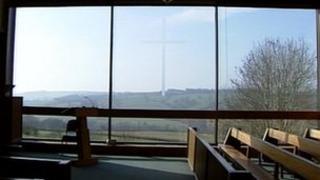 A Somerset council has asked artists to design a new window cross for a crematorium in Bath after the original was controversially removed.
Bath and North East Somerset Council had removed a window etched with a cross at Haycombe Chapel as part of wider refurbishments.
But after a petition against its removal was signed by thousands, the council is set to install a new cross.
The new cross can be removed when requested by families.
Hugh Mackay, from the Keep to Cross campaign, said: "After months of consultation and a lot of public pressure to retain the cross, including a 5,000-strong petition, we are pleased that a solution has been reached."
Despite its name, Haycombe Chapel is not a consecrated space and is not a church or church-owned building.
About £140,000 was spent on replacing the windows and carpets and installing a new sound system.