North Somerset homeless scheme appeals for 'spare rooms'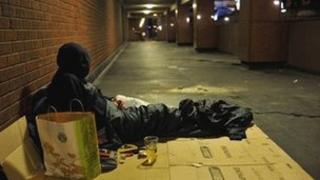 Residents in Somerset are being asked to put up a young homeless person for a night to keep them from sleeping rough.
The Nightstop project, set up by Weston YMCA and North Somerset Council, is looking for hosts to offer a spare room overnight to an 18 to 24 year old.
Volunteers will also need to be able to offer an evening meal, breakfast and use of washing facilities.
A council spokesperson said: "In return hosts receive £15 for each host night and for relevant travel expenses."
Robert Penney, manager of Weston YMCA, said the scheme gives young people an alternative to sofa-surfing at friends' houses.
"What we're aiming to do is to get them back into longer term solutions," he said.
"It does take a while for young people to get into the system and get housing and rather than wandering the streets or sofa surfing - that might lead them to being vulnerable - we can look after them and get the ball rolling to find a permanent accommodation for them."
A similar scheme, run by Sedgemoor District Council and Bridgwater YMCA, has helped more than 70 young people with housing since its launch in January 2011.