No more job cuts at RNAS Yeovilton says Commodore Alexander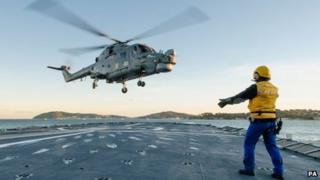 There will be "no new job cuts" at RNAS Yeovilton in Somerset, according to the base's new boss.
Commodore Jock Alexander OBE told the BBC that the military air station was "pretty secure".
Under the Strategic Defence Review, 124 service personnel were made redundant at the base in the last year.
He said: "I think, touching lots of wood, that we're pretty safe from future cuts but we'll see what the next defence review brings."
The government's 2010 Strategic Defence and Security Review (SDSR) introduced an 8% cut in defence funding and reductions of 30,000 personnel across the armed forces.
'Do nothing'
About 4,500 people work across the 1,200-acre site (485 hectares), which is one of the Royal Navy's two main air bases.
Squadrons from the Lynx and Commando helicopter forces are based there, when they are not on operations in places such as Afghanistan and the Caribbean.
Commodore Alexander said he had no plans to immediately change anything at the site.
"Yeovilton has always had a good reputation around the navy and defence.
"I'm not planning on any big changes, I will certainly do nothing in my first few weeks. I might tweak the odd meeting here and there but I won't be making any major changes."