New tree replaces Glastonbury's vandalised Holy Thorn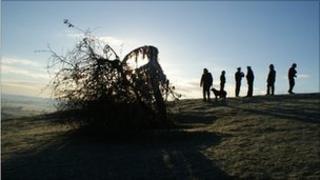 A tree grown from branches of the Holy Thorn, which was damaged by vandals, has been planted in Glastonbury.
The new tree, propagated from severed branches of the original thorn, was planted on Wearyall Hill.
The original, grown from a cutting of a tree said to have been planted by Joseph of Arimathea 2,000 years ago, had its branches cut off in 2010.
John Turner, from Visit Somerset, said it reinstates an "incredibly important piece of Somerset history".
It will be the second time that a replacement Holy Thorn has been planted on the hill.
Last April, a new tree was planted and surrounded by a metal cage to try to protect it.
But within two weeks the replacement tree had been broken off about a foot from the ground.
'Iconic tree'
The latest thorn was planted close to Glastonbury Abbey alongside a Word Peace Pole as part of a ceremony organised by the Glastonbury Pilgrim Reception Centre.
Tony Kirkham, head of the arboretum at Kew Gardens, said: "The Glastonbury thorn is one of our iconic trees in the British Isles, with legends relating to the arrival of Christianity.
"We were extremely pleased to be able to assist with preserving the original tree at Wearyall Hill by propagating it using the damaged branches in our woody plant nursery at Kew.
"With the new tree planted back in Glastonbury along with several others in different locations, we hope that the Glastonbury story will continue."
There are several Holy Thorn trees around the town. The original vandalised tree on Wearyall Hill was planted in 1951 to celebrate the Festival of Britain.