Pony rescued from disused well in Somerset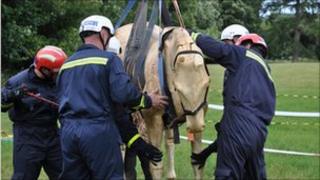 A pony has been rescued after becoming trapped in a well in Somerset.
It is not known how the animal became stuck in the 2.5m (8 ft) deep enclosed well at a property at Cary Fitzpaine near Charlton Mackrell.
The pony was found up to its chest in water and specialist lifting equipment had to be used to lift it to safety, the fire service said.
Devon and Somerset Fire and Rescue said it was "unharmed and led to safety."
The fire service received the call at about 10:45 GMT on Saturday.
A Devon and Somerset Fire and Rescue spokeswoman said: "Fire crews removed a quantity of overgrown shrubs using handsaws and debris from around the well to assist access.
"They erected a tripod and shoring equipment and lifted the pony from the well using strops," she said.
"We understand it was a well with a metal cover, that was not in use, so it is not known how the animal managed to get in."