Temperance fountain in Bath to be restored by students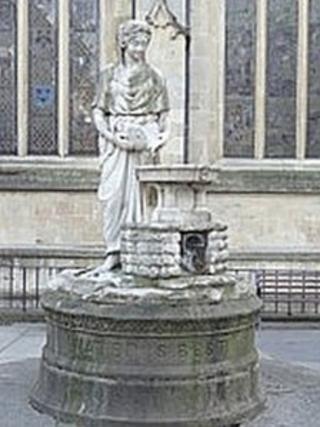 A 19th Century landmark in Bath is to be restored by a team of students.
The Rebecca Fountain, on the north side of Bath Abbey, is an historic marble drinking fountain dating from 1861.
Nine students from the City of Bath College will spend four days cleaning and conserving the fountain to remove moss, algae and staining.
College lecturer Nigel Bryan said it was "great that everyone has the confidence in their abilities to carry out such a prestigious project".
The fountain depicts a life-size female figure pouring water from an urn into a bowl with the inscriptions "take the water of life freely" and "water is best".
Mr Bryan said: "It was erected by the Bath Temperance Association in 1861.
"And it was basically to give people the option of water rather than alcohol."
'I did that'
The college's stone conservation students were approached by the Bath Preservation Trust, to submit a survey highlighting the work needed.
According to Mr Bryan, who runs the college's architectural stone conservation course, the structure is sound but work is needed to slow its rate of decay.
"The main thing about a good conservation job is that it should pretty much look like you've not done anything by the time you've finished," he said.
"We're not restoring it to its original. We're conserving it - by taking off any harmful pollutants.
"But it's a landmark right in the middle of town and students will be able to proudly walk past their work and say 'I did that.'
Work is due to begin on Monday.