Somerset Levels flooding scheme fails to meet funding criteria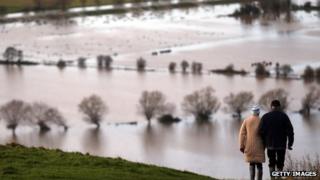 A scheme to reduce flooding on the Somerset Levels has been rejected because it does not meet the funding criteria, the Environment Agency says.
Since April last year, much of Curry Moor has been underwater and farmers are demanding that something be done.
Dredging rivers is the best option but it fails the "cost benefit analysis", the agency said.
A spokesman said it was a "bitter pill" for farmers but it would now apply to the government for special funding.
'Mental health issues'
Local farmer Heather Veen said it had been "quite damaging in terms of business".
"Half our farm has been unsalvageable because it's been waterlogged or flooded," she said.
"So we're having to put in significant amounts of feed and we've had to sell cattle because we can't buy in significant feed."
Councillor Gill Slattery said the flooding issues were "much more than money".
"You allow this to happen to people's lives - it's not just the insurance for their house or helping out with some aspect of the farm, it's much, much more than that," she said.
"I see stress levels which have been going very high and I just think are we looking at the mental health issues that follow this?."
In a meeting between the Somerset Consortium of Drainage Boards and the agency, it was agreed that de-silting sections of the river Tone and Parrett "could bring the greatest practical benefit".
"Unfortunately initial calculations show that normal national funding criteria are not met," an agency spokesman said:
It is now hoping to apply to the government for special case funding following a meeting with the Wessex Regional Flood and Coastal Committee on 22 April.