Safety probe after Watchet harbour baby fall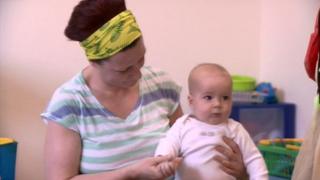 An assessment of safety measures will be held at a Somerset harbour where a six-month-old baby in a pram was blown into the sea.
Sam Cooper-Stevens was being pushed along in his buggy by his mother at Watchet Harbour on Sunday when the accident happened.
The boy was pulled out of the water by harbourmaster George Reeder.
Landowner West Somerset Council said a "full risk assessment of the area in question" would be carried out.
The baby is now being treated at Taunton's Musgrove Park Hospital where doctors have said he will make a full recovery.
It is thought he spent up to five minutes in the water.
A statement from the authority said it would investigate whether changes were needed at the harbour.
"Given that the incident occurred on council land, the authority will undertake as a matter of urgency a full risk assessment of the area in question and from this decide what action is required," the statement said.
"The council is delighted that baby Sam is recovering well and would commend all those people who helped deliver this happy outcome and prevent what could have been a terrible tragedy."