More personnel based at RNAS Yeovilton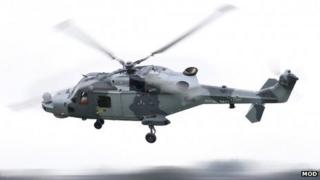 RNAS Yeovilton is set to see an influx of 700 army personnel over the next two years under the Army 2020 plan.
The soldiers are from 1 Regiment and 9 Regiment Army Air Corps which is being merged into one unit.
The decision was made to put the army unit with the navy as they will both operate Wildcat helicopters.
Commodore Jock Alexander said: "The end game will be another 600-700 personnel at Yeovilton and the Wildcat will be in service for the next 30 years."
'Supply chain'
The Army 2020 plan is a major restructure of the armed services, which will see a reduction in numbers from 102,000 to 82,000 by 2017.
In the past six months, about 70 soldiers have already moved to the naval base and this will gradually go up over the next few years.
The Army regiments are currently using Lynx helicopters, but these are set to go out of service and will be replaced with the Wildcats.
Wildcats are built at nearby Agusta Westland in Yeovil, about seven miles from the naval base.
The growth in numbers at Yeovilton has been welcomed by local councils.
Ric Pallister, leader of South Somerset District Council, said: "There are a huge number of civilians working in and around the base as well, so what it means for the supply chain is significant also, so it is very good news for the economy as well."