Driver wedges lorry in Somerset village street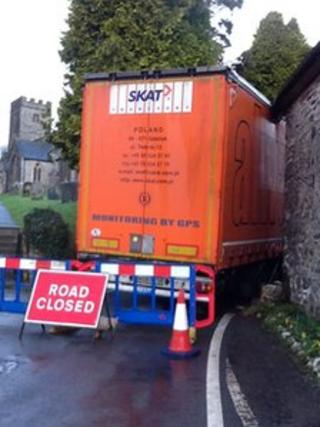 A lorry driver has wedged his vehicle between a house and a churchyard wall in a Somerset village, closing the road and damaging the house.
The vehicle, which belongs to Polish firm Skat, became stuck between two walls in Sanctuary Lane in Brompton Regis at about 19:00 GMT on Thursday.
It is believed to have been carrying paper to a paper mill in Watchet.
The Highways Agency is attempting to recover the lorry and said the road could remain closed all day.
The 44-tonne articulated lorry's rear tyres have blown and it is resting on its rims.
Homeowner Kevin Steer said the lorry is "embedded" in the side of his house, and has caused considerable damage, including ripping off guttering, slates, bargeboard and electric cable.
He said he was "amazed" to find the lorry stuck there, and was in a state of shock.
"This is a regular occurrence that large lorries come through the village, and normally they just take the guttering off," he said.
Mr Steer said he thought lorries from Europe were being directed through the village by satellite navigation equipment and said companies should consider an alternative route.
He said: "I think it's high time that there should be a separate system solely for lorry drivers, to stop them going down these narrow, undriveable roads."