Wedged Somerset lorry freed from village road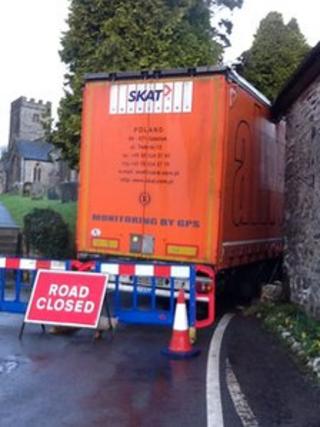 A lorry that got stuck on a small country road in a Somerset village has been removed.
The vehicle, which belongs to Polish firm Skat, became wedged between a house and a churchyard wall in Brompton Regis on Thursday evening.
The house owner, Kevin Steer, said his home had been damaged, and wants lorries stopped from using minor roads.
An eyewitness said the 44-tonne articulated lorry was removed at 23:45 GMT the same day.
"A big tow truck came, lifted it off the house and winched it away from the wall," she added.
"They removed and repaired the damaged wheels, and then the driver drove it off himself."
Satellite navigation
The lorry's rear tyres burst during the accident and it was left resting on it rims.
Speaking after the incident, Mr Steer said the lorry had "embedded" itself in the side of his house, and ripped off guttering, slates, bargeboard and electric cable.
"This is a regular occurrence that large lorries come through the village, and normally they just take the guttering off," he said.
It is believed the vehicle had been carrying paper to a paper mill in Watchet.
Mr Steer said he thought lorries from Europe were being directed through the village by satellite navigation equipment and said companies should consider an alternative route.