Snowdrop Valley delays public opening due to bad weather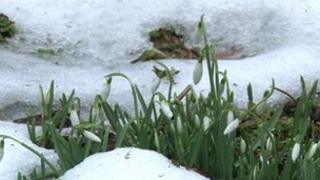 A part of Exmoor, dubbed Snowdrop Valley, which attracts thousands of visitors every year, has delayed its opening because of bad weather.
The valley was due to open to the public this weekend, but staff said the site is still too dangerous to access.
Last month's heavy snow and rain caused several trees to fall over, blocking pathways and damaging paths.
The park normally attracts 5,000 visitors a week during this period when the flowers are bloom in February.
"You could not get down there at all. It was totally impassable," said site co-ordinator Nic Wigley.
"Although the trees are now cleared, so the tracks are technically open, they are still so wet and all the surrounding ground is just not safe at the moment."
Snowdrop Valley is a privately owned valley in Wheddon Cross near Minehead. The team hope to open to the public on Friday, 8 February.