North Somerset Council may make 300 job cuts in savings plan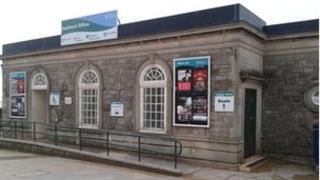 Up to 300 jobs could go as North Somerset Council faces a budget cut of £9.7m in the next financial year.
The cuts will affect both social services and public amenities such as cutting all funding for public toilets.
The Conservative-run council also proposed a 1.5% rise in council tax with Labour and Liberal Democrats calling for a 2% hike.
Cabinet member Tony Lake, said: "It's very frustrating, no-one comes into local government to cut services."
'Fairer system'
Mr Lake has also called on the government to review "ludicrous" funding formulae used by central government to determine local authority grants.
"Have a look at this ludicrously outdated formula and have a look at councils which produce services at a low cost and compare that with councils that produce services at a high cost," he said.
"And then ask why is there is a difference and force the councils that spend too much to actually reduce their expenditure and have a much fairer system of funding."
He also added that if North Somerset's funding was in line with other unitary authorities, the council would be about £22m better off.
The council has also predicted it will need to identify savings of £91m from 2013-18 if government funding continues to fall.
Leader of the Labour group Richard Tucker, said: "The basic fact is that the government has cut North Somerset funding by 24% since 2010.
"The council's finance manager confirmed that the revenue support grant has gone down from £54m a year under Labour to just £40m under the coalition government.
"There are cuts in frontline services across the board and nearly 300 jobs being axed over the council's term of four years - everything from social services budgets, to youth workers, highways inspectors to supported bus services, and weed-spraying frequencies."
The job cuts would be made over a seven-year period, between 2013-20.
The council is also facing legal challenges over its plans to close youth centres which were approved last February.
A meeting will be held on 19 February when the budget will be set.