Hestercombe Garden Trust to buy historic house for £1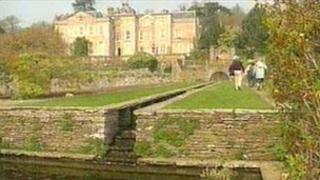 A 19th Century house is set to be sold for £1 by Somerset County Council to a trust as a community asset.
Hestercombe Garden Trust is due to complete the deal for Hestercombe House in the coming weeks, the council said.
The deal means the trust will also own the house under an agreement which obligates it to operate the venue to benefit the community.
Somerset County Council has said the sell-off will "relieve the financial burden" for local taxpayers.
The council has said the house costs £2m in maintenance and a further £200,000 in running costs a year.
'Natural choice'
Cabinet member David Huxtable said the trust would "protect and enhance the house".
He said: "The trust has a wealth of expertise regarding everything 'Hestercombe' and was the natural choice to take responsibility for the house as well as the gardens."
The grade II listed building was bought by the council in 1977 for office space. The trust already owns the land surrounding the house.
Community assets transfer (CAT) were brought in under the Localism Act.
The government introduced CATs to enable the public sector to transfer ownership and management of assets to the community with the aim of empowering citizens.