Bath's Lansdown park-and-ride site expanded by 390 spaces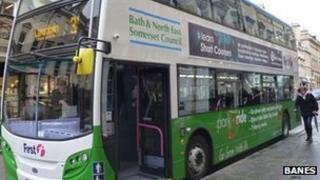 Work to expand a park-and-ride site in Bath has been completed, offering an extra 390 spaces.
The Lansdown site expansion is part of the local authority's plans to create 870 new spaces across three park-and-rides in the city.
Bath and North East Somerset Council has extended Odd Down park-and-ride by 230 spaces, and will add 250 spaces to the Newbridge site later in the year.
The work is part of a £27m traffic infrastructure improvement package.
Ian Bell of Bath Chamber of Commerce, said, "Better transport infrastructure is essential if the council is to help business create the right conditions for new jobs and greater prosperity in the area.
"Together with the other improvements in the Bath Transportation Package, the Lansdown expansion is another welcome step in the right direction."
It is estimated about 50,000 cars enter Bath every week day.