Cheddar Sainsbury's superstore planning permission approved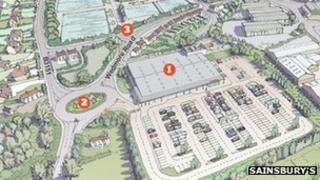 An application to build a superstore on the outskirts of the village of Cheddar in Somerset has been approved.
Sainsbury's plans to build on land at Steart Farm. A spokesman said it would create 100 jobs.
The scheme has attracted criticism from some residents and traders who said it would take business away from the shops. Others supported it.
Sedgmoor District councillors approved the scheme subject to an agreement to provide community facilities.
Tesco has also submitted an application for a store - on the site of Cheddar Football Club's ground.
Its application will be heard at a later date despite an attempt from Tesco to have the two considered at the same time.