Gloucestershire conservationists track migration of endangered geese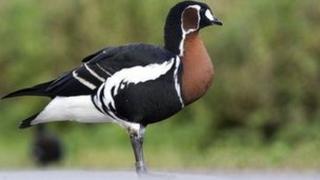 A Gloucestershire-based conservation group is spearheading a project to solve the mystery of thousands of red-breasted geese lost in migration.
The Wildfowl and Wetlands Trust (WWT) is working with Bulgarian conservationists on the project.
The trust hopes to find out what happened to about 50,000 of the endangered birds which disappeared from the Bulgarian coast 10 years ago.
The trust thinks the birds may have found a new site in Asia.
It plans to tag their birds to chart their migration destination to see if this is the case.
Russian Arctic
Another theory is that the birds may have fallen victim to hunting, development or changes in farming along their 6,000km (3,600 mile) migration route to breeding grounds in the Russian Arctic.
The WWT's Peter Cranswick said: "Almost overnight, we were unable to account for around half the world's red-breasted geese.
"The reasons are still unclear and we are tracking these individual birds to find out more.
"It is also possible that, as the climate has changed, some birds have started to winter further east.
"We hope our tagged birds will reveal as yet unknown sites, so we can assess their importance and - if necessary - ensure their protection."