Cheddar Gorge road reopens after flood damage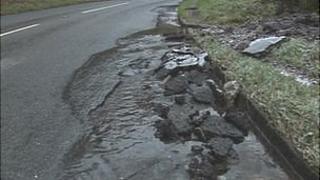 The main road through Cheddar Gorge in Somerset has reopened to traffic.
The B3135 has been closed since the end of November after heavy rain and flooding damaged large parts of the road and verges.
Water running down the road had to be diverted to allow the road and verges to dry before work could start.
However further works will be required in the future and temporary traffic measures will be in place while this work is carried out.
A Somerset County Council spokesman said the geology and geography of the area meant that water had been channelled into the gorge causing water to flow down the road in a torrent resulting in significant damage.
"When the flow of water slowed sufficiently, a team of cavers diverted the flow into an 'adit' upstream from Black Rock which allowed the road and verges to dry out sufficiently so the essential repairs could be made," the spokesman said.