Bridgwater's £6.3m swimming pool opens to the public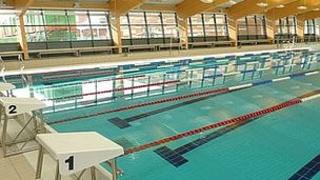 A £6.3m swimming pool in Bridgwater is due to open to the public later.
Funded by Sedgemoor District Council, it replaces the town's only other pool which was closed in August 2009 and demolished three months later.
The location of the six-lane 25m pool and cafe, in the grounds of Chilton Trinity School, has been criticised by a campaign group as not being central.
Councillor Gill Slocombe said the pool was in the most cost effective location.
The town has been without a pool for the last four years after the council decided the annual £700,000 cost of upkeep was not money well spent.
'More cost effective'
But Ms Slocombe, chairman of the council, said building the pool alongside an existing sports centre on the site would prove better in the long-term.
"Anything where you run alongside a combined swimming pool alongside a dry centre is much more cost effective," she said.
"So we believe the running costs will be better and we believe the subsidy will be less and this will benefit our rate payers in Sedgemoor."
The centre, which also includes a learner-training pool, changing facilities and 80 seat café, will be run by 1610 Leisure Centre.
It is due to be open to the public from 11:30 GMT.