Plant pots used to stop parking at Taunton open space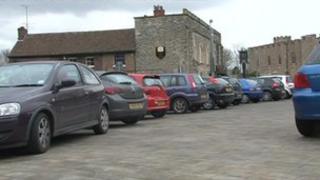 Plant pots are being placed at an open space in Taunton to help stop it being used as an unofficial free car park.
Work on the Castle Green open space was completed last December.
John Williams, leader at Taunton Deane Borough Council, said: "We're working with the county council to get byelaws in place so enforcement action can be taken in the future."
The open space in the town centre replaced a council-run car park in a £3m government-funded scheme.
The Castle Green Hotel is also close to the open space.
Hotel owner Kit Chapman said: "We have a most wonderful, beautiful open space, this is Taunton's own piazza and a beautiful space to put on wonderful open air events but now - in my own view - it is being completely ruined by all of these motor cars.
"They spend millions of pounds getting rid of Taunton's best located car park for which people paid to replace it with another car park for which no-one is paying a thing."